What documents shall I submit with my application form?
Transcript (i.e. high school, college, welding, etc.) or GED
Resume
Any safety certification documentation
---
I've submitted the application form and all the required documents.
What shall I do next?
After all the documents have been submitted, please call our Training centre or SMART Local Union #280 to book the Entrance Standard Exam
---
I have written the Entrance Exam. What's next?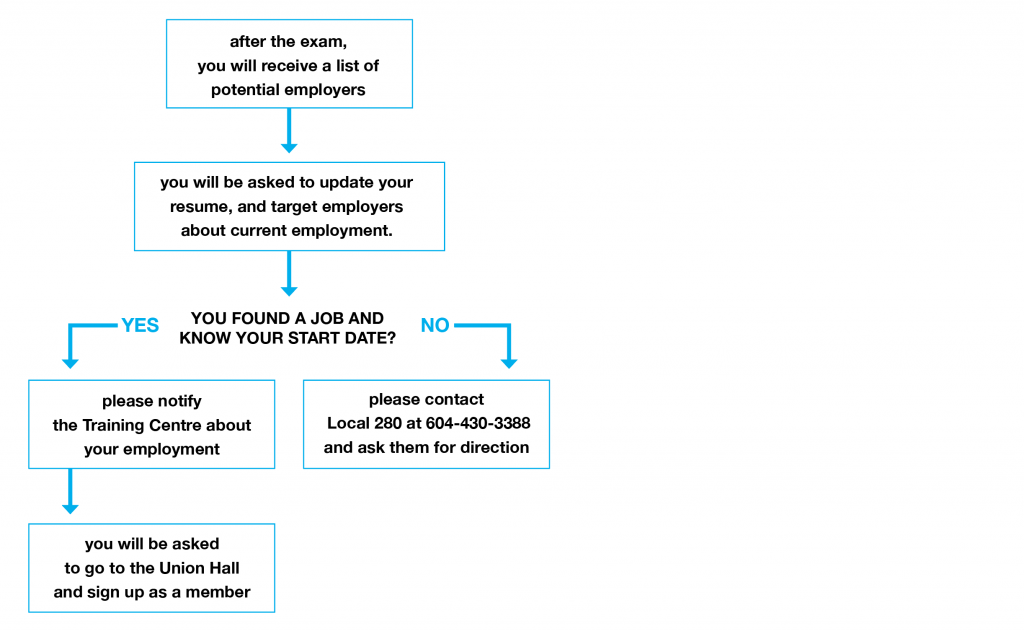 ---
When do I apply for EI?
You can apply for EI by the first day of class. You will receive instructions how to do it.
---
What is the financial assistance I've heard about?
You will receive instructions to apply for the financial assistance 4 weeks before the start of class.
---
How can I apply for Apprentice Financial Support?
Please refer to the link below to view the instructions:
Apprentice Financial Supports
---
What about Apprenticeship Tax and Grant?
Please click on the links below to find the information:
Apprenticeship Tax & Grant information
Service Canada – Apprenticeship Grants
---
Am I eligible for Canada Apprentice Loan?
The link below provides a detailed information about Canada Apprentice Loan:
Service Canada – Apprenticeship Loan
---
What do I need to be ready for school?
full work clothing
steel toe boots
binder with paper
TI 30x-A calculator
pens and pencils
be familiar with SMWTCS policy on attendance
be familiar with SMWTCS policy on behaviour
make sure to study the map well in order to know how to get to school on the first day of classes
---
Do my school hours count towards my wage level hours?
Your school hours do not count towards your wage level hours. Technical Training Hours and Work Based Training hours are separate. The requirement for 1600 hours per wage level for a total of 6400 hours total are all work based hours. The 840 hours of technical training that are counted while you are in school are separate to the 6400.
---