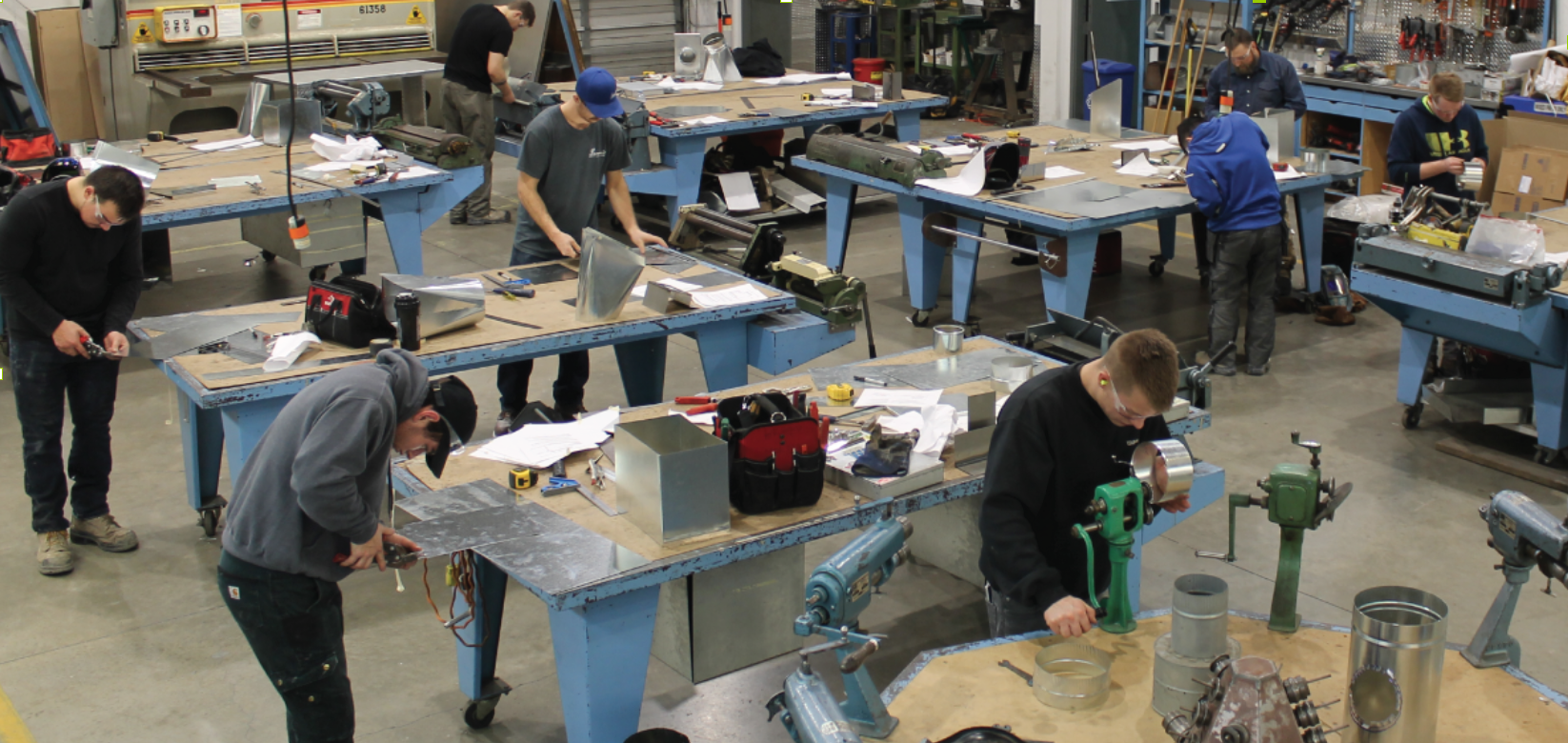 ---

On November 23, 2019, the Training Centre hosted its Annual Apprentice Contest at its facility. Nineteen contestants representing eleven contractors competed in four levels aligned with their last year of technical training. Thanks to the generosity of sponsors, there were over $7,000 worth of prizes donated to the participants.
SHOP: Participants assembled different projects for each level while spectators watched. Projects showcasing contestant's precision and skill, ranging from an aluminum hinged ammo-style box, to on-centre and off-centre square, to round fittings and a copper bucket.
THEORY: Mark Curtis from the International union proctored the theory categories and was our guest of honour at the prize awards ceremony. It was a fantastic day on which there were many moments of which to be proud.
NEW EQUIPMENT DEMO: During the contest, SMWTCS instructor Adam Dudarewicz demonstrated the Mobile Elevated Work Platform simulator purchased as part of the Union Training and Innovation Program (UTIP). Everyone who tried the simulator was entered for a chance to a prize. We thank those who stop by to experience this new technology. Congratulations to Connor Sové for winning the prize, a Milwaukee packout bag!
Thanks to all the apprentices for participating in 2019 SMWTCS Annual Apprentice Contest:
Level 1: Bramwell Chao (Piedmont Sheet Metal (1997) Ltd.), Galbyn Knell (Keith Panel Systems Co. Ltd.), James Parreno (Boston Sheet Metal Ltd.), Richard Steenhuisen (Pacific Waterproofing Ltd.)
Level 2: Mitchell Beauregard (Boston Sheet Metal Ltd.), Brendan Detta (Apollo Sheet Metal Ltd), Troy Martell (Austin Metal Fabricators LP), Brady Morton (Northwest Sheet Metal Ltd.), Shad Simpson (Viaduct Sheet Metal Works Ltd.), Luke Sutton (Boston Sheet Metal Ltd.), Richard Webster (ECCO Heating Products Ltd.)
Level 3: Tyler Crowder (Summit Sheet Metal Ltd.), Alexander Flaman (Piedmont Sheet Metal (1997) Ltd.), James Plett (Austin Metal Fabricators LP), Josiah Stagg (Viaduct Sheet Metal Works Ltd.), Stanley Suddaby (Austin Metal Fabricators LP), Philip Wong (Summit Sheet Metal Ltd.)
Level 4: Carlos Flores (Northwest Sheet Metal Ltd.), William Scott Wilcox (Spectrum Sheet Metal Ltd.)